What to Know About Pet Dermatology Provided by Our Veterinarian At All Friends Veterinary Hospital in East Islip, NY
Just like people, animals can experience skin issues like itching and dry skin patches. Just like you, your cat feels uncomfortable when he or she itches. If you notice any signs of skin issues, you should contact a veterinary dermatology expert like our veterinarian at All Friends Veterinary Hospital, serving East Islip, NY and the surrounding area.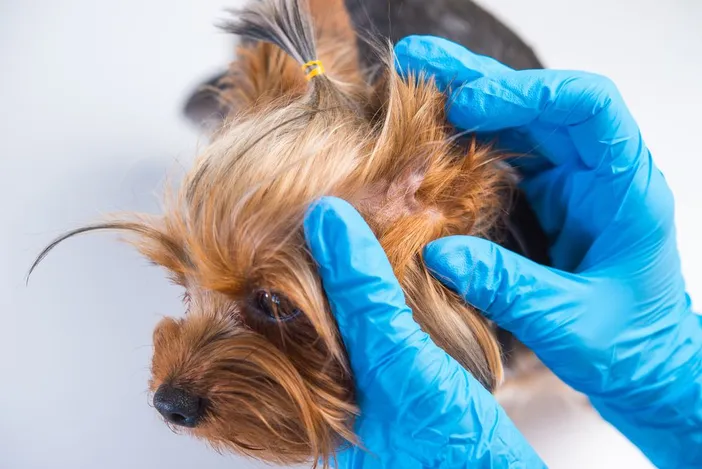 Common Skin Conditions in Dogs and Cats
We see pets at our veterinary dermatology clinic that have either a chronic or acute skin condition. Chronic skin issues in pets aren't curable while a vet can treat acute skin conditions.
One common skin issue is itchy skin. Unfortunately, this causes secondary issues like infections and skin lesions. It's even possible for your pet to lose his or her fur in the area where he or she scratches or bites. One cause of itchy skin is allergies that could either classify as fleas, food, or environmental. Your pet could also develop a bacterial infection. Your pet could develop sores or sunspots. Sometimes, pets have extreme hair loss, possibly from an adrenal disease or mites. It's also possible for your pet to have dull fur due to a nutrient deficiency.
Causes of Conditions
Parasites are a very common cause of skin conditions. Their saliva causes a reaction in most, if not all, pets. However, some pets have severe allergies to fleas that cause extreme bouts of itching and biting. Another common cause of skin conditions is bacteria. It can enter into a tiny spot on your pet's body and cause a sore that's possibly painful or itchy. Your pet could also have a fungal infection like ringworm. A pet may experience a reaction from inhaling, eating, or coming in contact with an allergen.
Some pets suffer from thyroid problems like Cushing's. In animals who have this particular condition, the gland produces too much of a hormone. When the excess hormones go through the system, it can lead to a range of symptoms including hair loss. Climate can affect your pet's skin. For instance, during seasons when it's dry, your pet's skin may dry and start to flake and itch. During the cold months, your pet's skin may dry out as a result of the heat running in your home.
Treatments for Skin Problems
For the relief of itching, our dog dermatologist may prescribe a cortisone drug such as triamcinolone, dexamethasone, or prednisone. Your pet may need a long-acting cortisone infection to find relief. All of these medications help combat the itching and are part of the treatment process for allergies.
With many conditions, a dog dermatologist has to target the root of the problem to stop the skin condition. For instance, a veterinarian at an animal dermatology clinic may need to prescribe a medication to suppress thyroid function.
Contact Our All Friends Veterinary Hospital in East Islip, NY
Schedule an appointment with a pet dermatologist at our animal dermatology clinic by calling (631) 277-8700. At All Friends Veterinary Hospital, serving East Islip, NY and the surrounding area. We help pets to feel and look better with our dermatology services.