Oh No – My Pet Just Ate Something Poisonous! What Should I Do?
Pet poisoning is a scary experience, for both pet owners and for pets. Knowing what to do can save the life of your pet. Our Long Island veterinarian provides advice on what you should do in case your pet eats something toxic.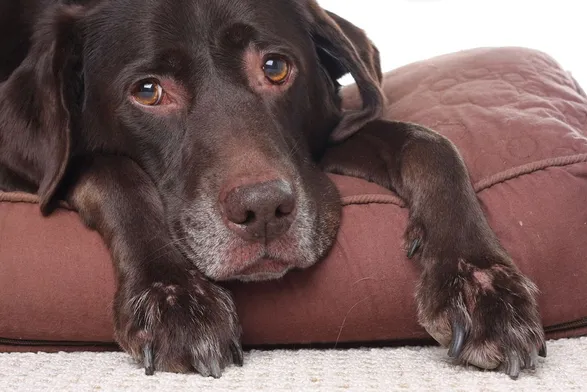 Pet poisoning is common, unfortunately. The ASPCA Animal Poison Control Center handled 180,639 animal poison-related emergencies in 2016.
The best thing you can do is prevent pet poisoning by identifying the most common pet poisons and putting them where your pet cannot reach them The ASPCA lists its top ten pet toxins in 2016:
Human prescription drugs, including heart medications, antidepressants, and medications for ADHD
Over-the-counter products, especially ibuprofen
Food, such as onions, garlic, and alcohol
Veterinary products
Household products, such as paint, glue, and cleaning supplies
Chocolate
Insecticides
Mice and rodent poisons
Plants, such as aloe, certain types of lilies, and begonias
Garden products
East Veterinarian Describes What to do in Cases of Pet Poisoning
Remove any remaining toxins from your pet's reach. This prevents the poisoning from becoming worse.
Determine what your pet ate; assess how much your pet ate, if possible. Treatment for pet poisoning relies largely on the substance ingested. In other words, your veterinarian will need to know what your pet ate in order to tell you what to do.
Do not induce vomiting unless directed to do so by a veterinarian who knows what your pet has ingested. Forcing a pet to vomit at the wrong time can actually make your pet's condition worse.
Contact our All Friends Veterinary Hospital veterinarian at (631) 277-8700 during regular business hours; call Veterinary Medical Center of Long Island at (631) 587-0800 during after hours. The sooner you contact a veterinarian, the better the outcome. It is safer for your pet and less expensive for you if your pet begins treatment before it develops symptoms. If you cannot reach us, contact Pet Poisoning Hotline at 855-764-7661 or ASPCA Animal Poison Control Center's 24-hour hotline at (888) 426-4435; charges may apply for using those hotlines. Be ready to provide information, such as your pet's health history, weight, and recent medications.
Collect a sample of anything your pet may have vomited. The sample may provide information about the substance or substances your pet ingested.
Prepare your pet for transport to the veterinary hospital. If your pet is quiet, transport it in a pet carrier in the car. For maximum safety, have someone watch your pet as another person drives.
Contact Our Local Animal Hospital in East Islip, NY for More Information Today!
If your pet has eaten something that may be toxic, or if you would like more information on preventing pet poisoning, contact All Friends Veterinary Hospital. Our veterinary professionals are highly experienced at preventing and treating toxic ingestion. All Friends Veterinary Hospital is conveniently located at 84 East Main Street in East Islip, NY. Call our East Islip veterinarian at (631) 277-8700.