At All Friends Veterinary Hospital in East Islip, NY, we strive to make things easy for our clients by offering a rich array of services. You can get your pet's regular exam, dental exam, pick up veterinary-approved food, and have your pet groomed. Dog grooming is an important component of its health and wellness and while there are some fantastic pet groomers in East Islip, the following is a quick look at why you should choose to have our veterinary team handle your pet's grooming needs.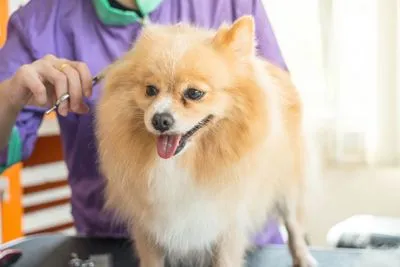 Experience in Assisting All Types of Dogs
There are dogs who love being groomed and can be easily handled by both inexperienced and experienced groomers and staff members. Then there are those pets who are less relaxed about things.
If your pet is quick to claw, bite, or howl at the sight of a brush or during a dog haircut, then let our team of professionals handle it. Not only does our staff have an extensive history in handling all types of pets, but as your veterinarian, we already know your pet's thresholds and can safely administer sedation where needed to ensure your pet gets the grooming they need.
The Importance of Trims for Your Dog's Health
Not all grooming is done just to get a pet's hair under control. For example, if your dog has a hot spot or ringworm lesion, then clipping down to those problem areas may require a specialized and medical-grade set of clipper blades that will get close but not nick your dog. Once the problem area is exposed, we can apply the necessary spray or similar treatment compound to clear it up. In fact, some sulfur-based dip treatments for ringworm are so smelly that specialty groomers simply won't do it at their store.
Another common healthcare cut is the sanitary trim, which is done on older pets or pets with hair that gets matted easily. During this service, we trim close to your dog's behind to ensure that their waste doesn't get stuck in the hair and it reduces their risk of developing a UTI or similar medical condition. While doing this and providing other services, such as puppy grooming, our team will also provide anal expression services if needed to further ensure your pet is kept healthy.
Contact us for an Appointment Today
Naturally, your dog doesn't have to be difficult or need medical-specific grooming to schedule a visit with us. Our team strives to create lifelong relationships with each of our furry patients. Contact All Friends Veterinary Hospital in East Islip, NY, at (631) 277-8700 today to learn more about our grooming services. If you are searching for a veterinarian near me for pet care, we are ready to assist you!