Puppy Vaccinations First Year at All Friends Veterinary Hospital
Do you have a new puppy or are thinking of getting a puppy? Responsible dog owners know that puppy vaccinations first year are necessary to give young puppies an extra layer of protection from a host of issues. Your veterinarian provides both puppy and dog vaccinations in Islip NY to support the well-being of developing and adult dogs. Learn more about the first year of puppy vaccinations needed for optimal health and development.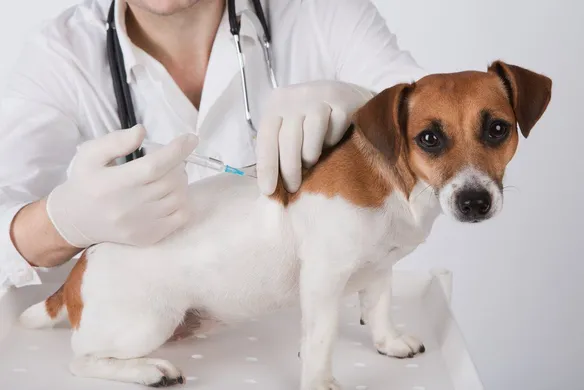 Why Are Puppy Vaccinations Necessary?
After the birth of a puppy, the animal has a short time where it relies on the immunity given to it by its mother. This soon wears off and as the puppy is still developing its own immune system, it becomes necessary to bolster the puppy's health with a series of vaccinations. Puppy vaccinations first year of life will be more numerous than in following years but they serve to build a healthy immune system and prevent many common infections and potentially deadly diseases.
When Are Puppy Vaccinations Given?
Puppies may receive their first vaccines during an initial puppy exam, in addition to flea or heartworm prevention. A puppy will need to return a few more times for additional vaccinations and boosters during the first year of life. Schedule an initial visit or exam to ask your veterinarian questions about training issues, core and non-core vaccinations and other concerns.
Follow the Vaccination Schedule for Your Puppy
Proper veterinary care includes puppy vaccinations during their first year. Core and non-core vaccinations are helping to promote a puppy's optimal health.
The initial core vaccinations for puppies begin early. Starting At 6-8 weeks of age, Puppies receive their DHPP and Start Heartworm Prevention at 8 weeks. In 10-12 weeks, the DHPP booster is given. At 16 weeks, puppies receive another DHPP booster and a Rabies vaccination.
Depending on the breed, health and exposure to certain environmental elements, a vet may recommend some optional vaccinations for a puppy. Those looking to potentially board a pet should look to prevent a kennel cough with the Bordetella vaccine. Other optional vaccinations include Coronavirus, Leptospirosis, and Lyme disease.
Puppy & Dog Vaccinations from All Friends Veterinary Hospital
Get high-quality veterinary care and core and non-core vaccinations for your puppy at All Friends Veterinary Hospital. Dr. Louis Reda D.V.M. and the staff are dedicated to serving the routine or emergency care needs of your pet in East Islip, Islip, Oakdale, Brightwaters and Bay Shore. Services at All Friends Veterinary Hospital include wellness exams, vaccinations, pest/parasite control, dental care, diet and nutrition, laser therapy, surgery, emergency/urgent care and grooming.
The team makes every effort to have pets and their owners feel right at home. Contact All Friends Animal Hospital at (631) 277-8700 to schedule an appointment for your puppy vaccination today.