Pet Grooming
Who doesn't want a pet that smells good? While most people associate pet grooming with keeping their pets clean and brushed, many people do not consider the significant health and wellness benefits of pet grooming as well.
At All Friends Veterinary Hospital in East Islip, NY, we care about the way your cat feels from the inside out. We offer grooming services that improve your pet's general wellness.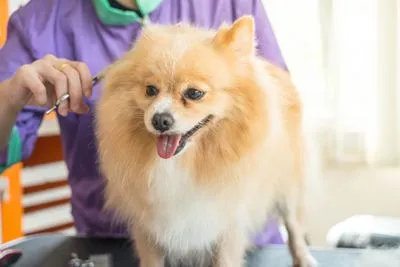 Grooming Prevents Skin Injuries
Tangled hair is more than a nuisance for you and your pet. In fact, mats and tangles in your pet's hair can cause injury if you try to brush them out. Bacteria underneath the tangle will continue to sit on the site, potentially leading to an infection.
Grooming Prevents Fleas and Mites
Groomers often spot fleas, mites, and other bugs that can injure your pet. Often, these pests go unnoticed because they can bury themselves in your pet's fur. Grooming finds these parasites, which means you can take steps to remove these pests from your pets.
Grooming Prevents Overgrown Nails
Long nails can be uncomfortable and dangerous. Pets who have overgrown nails feel uncomfortable when they walk, which can impact their desire to play or get exercise. Additionally, cats with long nails may injure people and other animals on accident.
Grooming Expresses Anal Glands
Your pet's anal glands may need to be expressed. This is likely not something you want to try to do at home, especially because the process can be smelly and messy. Fortunately, groomers have experience expressing anal glands and ensure your pet is comfortable and safe throughout the process.
What Happens during Grooming
The first step of your pet's grooming process is often removing mats and tangles. The groomer will then remove any parasites or pests from your pet's hair before cleaning your pet's skin and fur. Your pet may receive a haircut, and then the technician will trim your pet's nails safely. Finally, a tech may express your pet's glands if necessary. Once your pet is dry, he or she will be ready to go home.
Call Our Veterinarian Today
All Friends Veterinary Hospital offers a vet in East Islip, NY, who can help you with grooming. Whether your pet has tangles and mats or you have a pet who would benefit from trimmed nails, our veterinarian can help.